Two new limited edition multiples, "Princess I" and "Princess II," have been specially produced for this exhibition. Both are miniature crowns available in either sterling silver or 10 karat gold. Each edition comes in a hand-made Fortuny fabric pouch.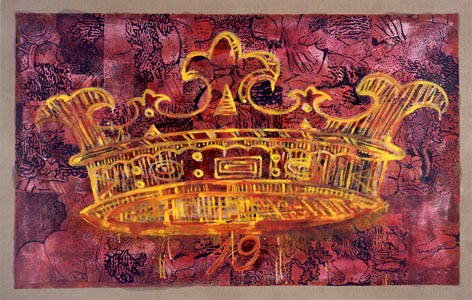 Francis M. Naumann Fine Art is pleased to announce American Boy, a multimedia installation by Brice Brown. Presenting new work that combines painting, printmaking, photography, sculpture and Internet-based art, Brown demonstrates how codified or repressed information always lurks just beneath the surface of things. Through his investigation of how covert innuendo is used to redirect, even corrupt the perceived intent of an object, Brown exposes the act of communication as a highly subjective and infinitely malleable phenomenon. His pieces offer an immediate and visually snappy first impression, while layers of manipulated and coded images shift the viewer's initial understanding of what is being observed.
"Faggot Queen" is a large site-specific installation consisting of multi-colored screen-printed aluminum tiles. It is a continuation of Brown's ongoing long-term project of creating modular works that can be dispersed and reassembled in any configuration on any scale, at any time, in any location. Alternately referencing such diverse sources as landscape, baroque minimalism, and Pop art, this piece contains, among other elements, coded images sourced from gay "bear" pornography, replacing traditional notions of the classical homoerotic figure with those of stout, hairy, kinky men.
"Victory Garden (We're All Pink On The Inside)" is a game with 16 interlocking pieces ­­­­–– each one screen-printed with Brown's coded images –– housed in a luxuriously silk-lined industrial-style crate that doubles as a plinth. Brown turns the concept of modularity into an almost whimsical game: these tiles can be arranged in a variety of configurations, and it is entirely up to the viewer's interaction to determine their final form.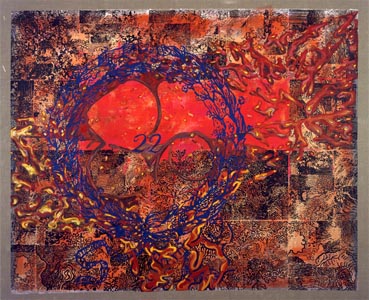 The eponymous "American Boy" is a web-based animation available as an unlimited edition, extending printmaking concepts into the world of the Internet. Due to its bodiless –– yet omnipresent –– existence on the Internet, Brown created a site-specific computer console displaying a loop of the animation that also allows viewers to burn their own physical copy of "American Boy" onto specially designed CD's. Because this disk will contain all the information necessary for infinite self-replicating, it becomes both media and container.