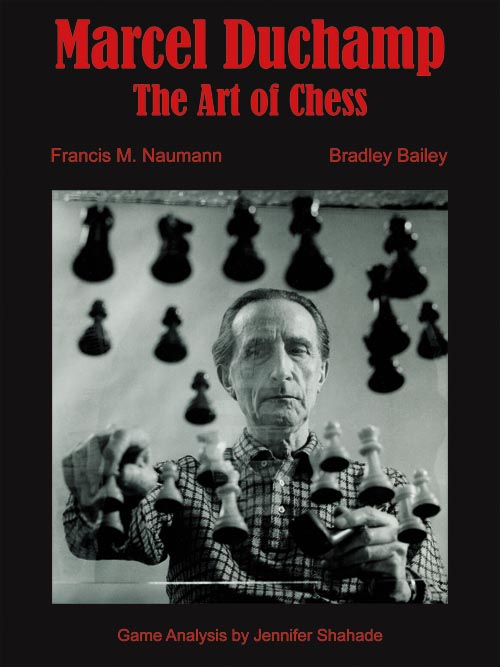 In the early 1920s a rumor circulated through the art worlds of Paris and New York that Marcel Duchamp—the artist best known for Nude Descending a Staircase, the sensation of the Armory Show of 1913—had decided to stop making art in order to devote his life to playing chess. Although Duchamp made no effort to refute this claim, and had indeed entered into regular tournament play, he would never abandon his career as an artist. For the remaining years of his life, he sought opportunities to combine the two endeavors. Not only was the theme of chess an ever-present motif in his work—from his earliest paintings to works of his final decade—but on more than one occasion he buried coded messages in his art that could be fully comprehended only by proficient players of the game. He went so far as to suggest that the activity of playing chess be considered a component of his artistic expression. "I have come to the conclusion that while all artists are not chess players," he memorably remarked, "all chess players are artists."
Marcel Duchamp: The Art of Chess is the first major study in the English language devoted to exploring how Duchamp's activities as a chess player affected his art. Francis M. Naumann's essay, "Marcel Duchamp: the Art of Chess," shows that the chronology of Duchamp's life runs parallel to the various phases of a chess game—from opening, to middle game, to endgame—revealing how various events that he subtly orchestrated resemble the unfolding pattern of a game, one that, insofar as the game of art is concerned, continues to be played. Bradley Bailey's essay, "Passionate Pastimes: Duchamp, Chess, and the Large Glass," demonstrates that Duchamp's identity as a chess player is so thoroughly interfused with his work as an artist that the two activities are aesthetically and conceptually inseparable, an interrelation especially evident in Duchamp's masterwork, The Bride Stripped Bare by Her Bachelors, Even, 1915-23, better known as the Large Glass (Philadelphia Museum of Art) and in the preliminary study Nine Malic Molds, 1913-14 (Musée National d'Art Moderne, Centre Georges Pompidou, Paris). Jennifer Shahade selects and expertly analyzes fifteen of Duchamp's chess games, which are laid out by Jean Sabrier in a font that replicates Duchamp's Design for Chessmen (1918).
To order the book send a check for $45 plus $5 for domestic shipping and handling for a total of $ 50.00
Please make check payable to:
Francis M. Naumann Fine Art
To access the Duchamp animated games: click onto the image below
User name: "Chess"
Password: ISBN number for Marcel Duchamp: The Art of Chess (found above the barcode on back cover, or on copyright page, opposite the table contents). Be sure to include dashes.
Arnold Rosenberg, Marcel Duchamp playing chess on a sheet of Glass, 1958
A limited edition of signed silver gelatin prints of this photograph (each 11 x 14 inches) have been produced specifically for this exhibition. To purchase one, please contact the gallery.
Francis M. Naumann is an independent scholar and curator, specializing in art from the Dada and Surrealist periods. He is author of numerous articles, exhibition catalogues and books, including New York Dada 1915-25 (Harry N. Abrams, 1994), Marcel Duchamp: The Art of Making Art in the Age of Mechanical Reproduction (Harry N. Abrams, 1999), Wallace Putnam (Harry N. Abrams, 2002) and Conversion to Modernism: The Early Work of Man Ray (Rutgers University Press, 2002). In 1996, he organized "Making Mischief: Dada Invades New York" for the Whitney Museum of American Art and, in 1997, "Beatrice Wood: A Centennial Tribute" for the American Craft Museum in New York. He is preparing for publication a selection of his essays on Marcel Duchamp, and he currently owns and operates his own gallery in New York City. www.francisnaumann.com

Bradley Bailey is assistant professor of art history at Saint Louis University. His doctoral dissertation, Duchamp's Chess Identity, was completed at Case Western Reserve University in 2004, and he has published articles on Marcel Duchamp's complex system of identities in SOURCE: Notes in the History of Art and Tout-Fait: The Marcel Duchamp Studies Online Journal. In conjunction with this book and the 2009 U.S. Chess Championship, he organized the exhibition "Marcel Duchamp: Chess Master" at the Saint Louis University Museum of Art. His forthcoming research explores the reproduction and reception of Duchamp's readymades in 1964.

Jennifer Shahade is two-time American Women's Chess Champion (2002, 2004), and author of Chess Bitch: Women in the Ultimate Intellectual Sport (2005). She is the editor of uschess.org, the official website of the U.S. Chess Federation. Her current projects include Hulachess, a video installation based on one of the games in this book, and she participates in two non-profit organizations, 9queens, of which she is co-founder, and the Chess Club and Scholastic Center of Saint Louis. Find out more about her writing and projects at www.jennifershahade.com.