January 18 - February 29, 2008
Don Joint: Clobbered Works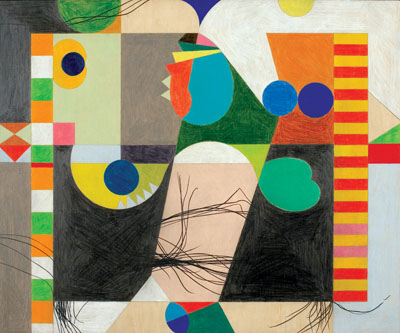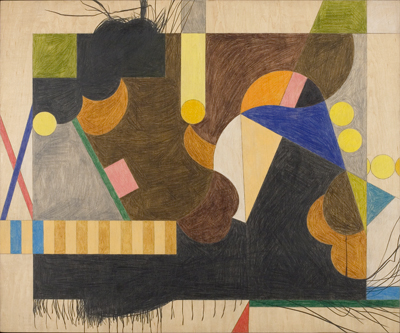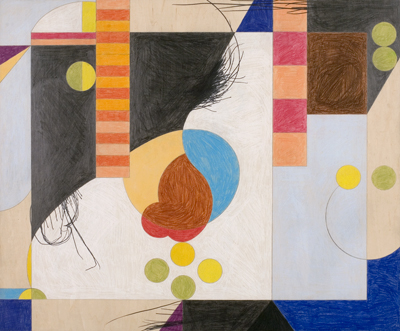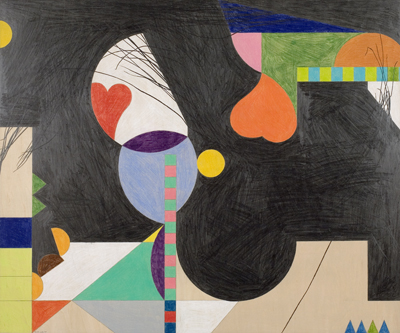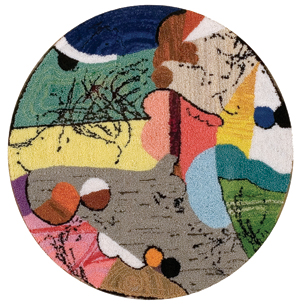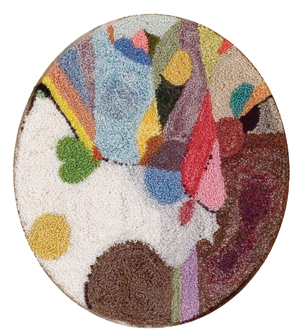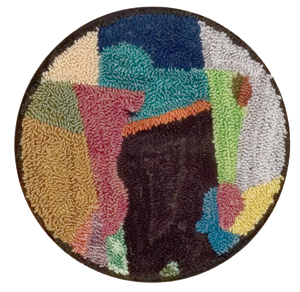 The threadwork begins with watercolor, drawn in reverse on the linen. Joint makes no sketches in advance, finding his composition in the act of drawing, as if embodying the writer John Berger's definition of drawing as "an autobiographical record of one's discovery of an event—seen, remembered or imagined." His palette consists of embroidery skeins in four hundred different colors. After completing the stitching, he may change his mind, as he did for example when he pulled out the threads in one area to re-work it with more black.
Spontaneity and control converse in all of Joint's compositions; the sensuous scribble scrabble of his drawn lines is present in the fabric work in lofty translation. Here wavery boundaries multi-task, functioning like fences that both confine and exclude. Hints of landscape join his signature ball games and covert body referents. For example, when Joint juxtaposes an apple green patch and a teal area, we read a horizon line separating earth and sky. We can survey his terrain from a bird's eye view, or see lines as winter branches, tapping against a pane. Joint will take us wherever we want to go.
Judith E. Stein
Philadelphia, PA
December, 2007
There's a little ambiguity over there among the bluebells
ONE: What a poet wants is a lake in the middle
of his sentence
(a lake appears)
TWO: yes and a valid pumpkin
(a pumpkin appears)
THREE: and you should slice up language like a
meatcutter abba dabba dabba dabba yack
(sliced up language appears)
. . .
Ruth Krauss, 1968
It's hard not to smile in admiration when reading this excerpt of apoem/play by Ruth Krauss;her hilarious metaphors speak directly to the condition of art. Krauss's masterful skill with images came to mind recently when I saw the latest work of Don Joint, a visual artist with a kindred respect for ambiguity. In his last several exhibitions, Joint revealed his considerable talent for unexpected color, sly humor and geometric abstraction. Graphite drawing is now in his repertoire, more fully conveying the expressiveness of his hand. Clobbered, the title of this series, refers to eighteenth century decorated porcelain from China, which was re-painted and re-fired in Europe to match up-to-the-minute western taste. Joint finds it analogous to his new practice of overlaying hard-edged shapes with nervy filaments of line.
Graphite, one of nature's softest minerals, is a fluent translator of Joint's gestural vocabulary. His fractious sprouts defy politesse like nose hair. Squalls of blunt diagonals jostle for position near the surface plane, vying for the privilege of reflecting ambient light. Some passages resemble the antennae of a disheveled cricket; others evoke tsitsis, the hanging fringe that protrudes just below the suit jackets of Orthodox Jewish men.
Joint shares Edna St Vincent Millay's credo that "Euclid alone has looked on Beauty bare," and aligns himself with those who stare "at nothing, intricately drawn nowhere in shapes of shifting lineage." He doffs his cap at Blanche Lazell, Donald Judd, Ellsworth Kelly and Sean Scully, not to mention Pac-Man and Kermit the Frog. At will, he can flash freeze balls on a tilt, or stack them like scoops of sherbet.
In contemporary art, can spherical shapes ever be merely spherical shapes? Perhaps Joint's paired circles allude to Jasper Johns' Painting with Two Balls (1960), itself a possible jibe at macho posturing in the New York art world. Or maybe he is referencing Jeff Koons' twin basketballs, coaxed into disequilibrium. He is a master of visual possibilities. Pendulous shapes can signal pubes, or not. But chances are, if his helmet-headed prods trigger sexual associations, that was his intention.
New to the artist's oeuvre are several diminutive fabric pieces. Not your grandma's hooked rugs, these tactile jewels are worked on linen with a hook and mercerized cotton. Like graphite, this silky material is a consummate light-gatherer. The pile of tightly massed loops snares light, mimicking the natural unevenness of mosaic tesserae. By moving beyond traditional painting and drawing, the artist here returns to the arena in which he began his artistic career twenty-five years ago—needle and bead work.